The New Transparency. If You're Not Embracing It
With the universal presence of the Internet, the ubiquity of smart mobile devices, the astronomical growth of invasive social media and the plethora of interactive technologies these all bring with them, the level of scrutiny under which individuals and businesses operate today is staggering.
There is not a heck of a lot we can do to avoid this scrutiny and once information is out there it is pretty much out there everywhere and for the foreseeable future.
Is this new transparency a good thing for businesses?
There are many arguments on this issue, both pros and cons. And like many big questions about business, the answers tend to start with the phrase…. "It all depends on the kind of business you are talking about…"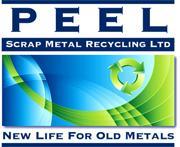 At Peel Scrap Metal Recycling, we have found that this transparency has actually been quite a good thing for us on a number of levels:
A) It can provide a guiding hand in many of our decision processes. And with the exception of trade secrets and some related issues, why not be transparent anyway?
B) It enables our customers, suppliers, employees, and regulators to see the full monty and therefore strengthens our level of engagement by keeping us in compliance and in conformity with the values of our various stakeholders.
C) This transparency also has an impact on the quality of feedback we get from our customers through various sources, which is invaluable business intelligence that you only get if you ask for it.
How Our Transparency Manifests Itself.
A few years ago, we decided that, in order to provide our customers with some indication of our pricing and which way the markets were swinging, we would add a small pricing chart to our website and keep it current.
Other scrap yards simply did not do this. Customers always had to phone for pricing or stop by one of our yards. In fact, we would often get 'anonymous' phone calls from other scrap yards pretending to be customers and asking about our pricing on different items.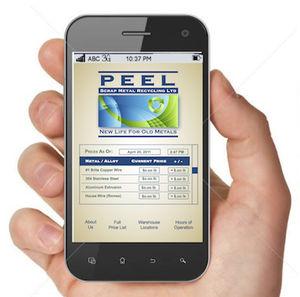 The pricing chart worked very well on our site, so a couple of years later, when we started to see exponential growth in mobile communications, we developed the Peel Scrap App for mobile and tablet users on the Apple and Android platforms. It keeps our customers current with useful information to guide their transactions and provides other convenient features for them.
Today, there a few scrap companies that now publish their pricing information. We take that as a compliment to our sense of innovation, imitation being the sincerest form of flattery and all.
 Transparency…We Give It Two Thumbs Up.
At the end of the day, this new transparency has proven to be very good for our business.
Our customers have taught us a great deal, and are genuinely appreciative of the effort we put forth to provide them with the knowledge they need to make good decisions. Transparency
It has also established Peel Scrap as the 'real deal' because we have invested time and effort in our sales and marketing to let people know that they are dealing with a well-established, responsible and service-driven recycling organization which, in our industry and competitive environment, are very important issues for them.
Download Our Mobile App
If you haven't done so already, our Peel Scrap App is free to download and available at both the iTunes and Google Play stores. It will keep you current on prices in addition to providing other useful links and information. (Search Peel Scrap Metal Recycling)
Turn Your 'Spring Cleaning' Into 'Spring Greening'.
As spring is finally here, it's a good time to clean up around the house or business and free up the space that is currently being occupied by old metal and electronic devices that have long outlived their usefulness. In fact, we probably have no idea, in most cases, why we keep these things around. Old fencing, lawnmowers, pipes, taps, barbecues, wiring, computers, printers, and a host of other metal items are all welcome. We look forward to seeing you!
Business Hours Etc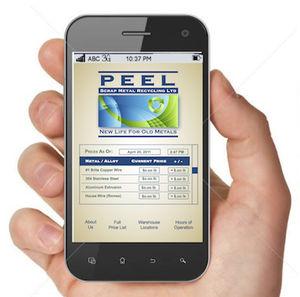 Our public yards in Mississauga and Oakville are Bullfrog powered and are open from 7:30 AM to 5:00 PM Monday through Friday and from 7:30 AM to 12:00 noon on Saturday. We are closed on Holiday weekends.