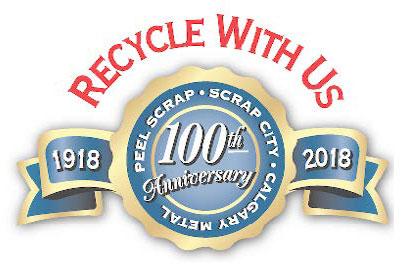 Peel Scrap Metal Recycling Ltd. is a century old family owned and operated dealer & processor of a wide ranged of ferrous & non-ferrous metals. The industrial recycling we do is one of the most important ways to ensure that valuable non-renewable resources are given new life. It's a key environmental responsibility which we take seriously.
Commonly Purchased Metals & Alloys
Our Buying & Selling Philosophy
WHAT WE BUY: We purchase most grades of both ferrous and non-ferrous metals from all of our market groups including the general public.
Non-Ferrous metals are purchased by the pound. Ferrous metals are purchased by the ton.
We have earned a solid reputation in our industry for offering fast and courteous service and a safe environment. Our staff are knowledgeable, aim to exceed expectations and are always more than willing to be of assistance.
The combination of our modern, computerized point of scale manage-ment system, and the latest testing devices ensure that all metals are properly graded and priced. And our pricing policies, established through constant monitoring of local and international markets, always ensure a fair market value for our customers' metals.
ABOUT SELLING: Over the years we have established ties with consumers locally, nationally and around the world. The high quality of our product has given us an impeccable reputation in the industry and has allowed us, in some cases, to sell our material forward, which protects prices in falling markets. This, in turn, means strengthened pricing, which we can pass along to all the customers from whom we purchase metals.
When in comes to pricing the metals we purchase, there are a number of variable that can affect this process, including:
The Grade Of Metal

, because every metal has a number of different grades, each developed for specific applications

The Commodity Price

of the metal, which can change several times a day, in concert with supply & demand for the metal, commodities trading and fluctuations in currency exchange rates

The State Of The Metal

ie whether it has been properly sorted and cleaned of other types of metals or contaminants such as plastic or insulation.

The Travel Factor

meaning whether the metal is delivered to us or we have to pick it up.
Tell Us About
Your Next
Fundraiser
Scrap metal and scrap
Electronic drives are a great
way to combine environmental
responsibility with fundraising.
We participate in a number
of charitable and community
fundraising events in the GTA
and would be happy to talk
with you about yours.
You can reach us by phone
during normal business hours
at 905 612-1288,
or by email anytime
How Our Customers Feel About Us.
Before our customers leave, we always try and have them fill out our customer evaluation form. This is a great way for us to make sure that we're providing all our metal recycling customers with the best service possible. A number of our customers have kindly consented to write a testimonial for us. Here is a sampling:
"Peel is the only place I bring my scrap."
Kevin Fujioka
Trigon Construction
"The guys here are friendly and courteous
and always give service with a smile."
John Prioste
Quadcon Group Contractors
"The workers at Peel Scrap are the best feature.
They all have a sense of humour."
Dennis Comeau
"Good job, guys."
Gleb Doynirov
Electrical Cointractor
"I would never consider going anywhere else!"
Serge
(Regular Customer)
"The guys here are all great to deal with."
Ryan Jeffery
"Quick helping hands…just what a customer wants.
Everyone is nice…keep it up.
P.S. A satisfied customer always comes back.!
Yolande
(Satisfied Customer)
"Keep up the good work."
Daniel Mera
DanMar Electrical
"I think everybody who works here are great people
to get along with. Prices are good for me too."
Burton Croft
"I have already referred a few co-workers
to Peel Scrap Metal Recycling for their personal/home use.
Peel is a good practical alternative to using Region of Peel
or other private services and also provides good remuneration."
John Seabourne
Hobby Recycler
"I always enjoy coming here.
Your guys are all very easy to work with."
Steven Pahl
"Always fair and you can't get better than that."
Doug Scott