What's Putting The Brakes On Copper Prices This Time Around?
Spoiled by a successive number of mild winters, this winter has been one of the worst we have seen in some time. Although we are an all- weather sport, the severe cold and storms have been hard on both our employees and equipment and hasn't done much to encourage scrappers to get out there and find metal for recycling. At time of writing, we are expecting wind chills in the order of minus 29 degrees Celsius overnight and 10 to 15 cm of snow!
But something else has gone amuck out there too. If you have brought copper in recently, or are following the pricing on our website or on our Peel Scrap App, you will have noticed a significant change in copper prices. They are now at the lowest levels they have been since about the middle of 2010, having rapidly fallen well over eight per cent.
In case you are wondering, the significant driver appears to be recent developments in China, the world's second largest economy and the largest consumer of copper accounting for about 40% of global demand for the metal. Overall, exports from China have dropped, growth has slowed and there are concerns about the health of their financial system. This makes the argument compelling.
Copper Prices As Loan Collateral
The Wall Street Journal, and other publications, have reported that amid a substantial rise in inventories large amounts of copper stored in China have been used by companies and investors as collateral for loans as opposed to being used in manufacturing processes. As prices fall, lenders are less willing to accept the metal as collateral and borrowers will ultimately be forced to sell in order to compensate for higher risk.
An historic event superimposed on all of this, a Chinese Company, The Shanghai Solar Energy Science & Technology Company, very recently became the first company ever in China to default on bond payments. Worrisome indeed in a market that is already jittery. This only serves to fuel speculation that more companies may find themselves in the same boat as the economy slows and that holds out the further prospect that some of those lending deals backed by copper may begin to unravel.
Things Could Get Worse Before They Get Better
How big is the potential for problems in a sell-off given coppers exposure? In the U.K., the Guardian reported on March 12th that while official figures are not available, some estimates put the amount of copper imports that have been used in collateral arrangements as high as 60 to 80 per cent.
Clearly there are some challenges ahead for the government in China as well as for us. While there may not be any long term justification for low prices in the copper market, in the short term it looks like China is opting to slow growth to more sustainable levels and it will therefore be a rocky road for copper until the demand for the metal starts to eat further into the supply and works off some of that inventory.
Now for the Disclaimer!
Please note that these comments are not intended as investment advice. We leave that to the experts. Our expectation here is merely to provide some background to a fast moving story on copper prices that is of interest to our customers.
Some Interesting Links
Here are a couple of links to some unusual stories involving scrap metal.
First, a report by CBC news in January that a propeller once used to power a rum running vessel run by Al Capone was found in a scrap yard in Squamish B.C.
ca.news.yahoo.com/39-al-capone-39-39-propeller-saved-scrap-154527299.html
And for an incredibly powerful, artistic use of scrap metal check out the following link to a sculpture from an artist based in Istanbul, Turkey.
www.mymodernmet.com/profiles/blogs/selcuk-yilmaz-aslan-lion
Come See us at CMPX 2014
A reminder that we will be at the CMPX 2014 show at the Metro Toronto Convention Centre, March 19th to the 21st . If you plan on attending, please be sure to visit us at Booth 217 and don't forget to enter our draw for an IPAD mini.You can find out more about the show at www.cmpxshow.com
And finally…
Download Our Updated Mobile App.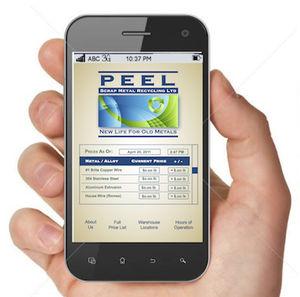 We are really excited to be able to provide this mobile convenience to our trade and manufacturing customers and to those generally looking to recycle their scrap metal. The App provides users of Iphones, Ipads and Ipods with an extension of the pricing chart that appears on our web site. It includes updated prices on a wider variety of metals and tracks their changes from the last pricing revisions.
The App also features easy to access location, hours of operation and contact information for our Mississauga and Oakville warehouses as well as a link to our main web site.
The App is free to download to Apple mobile devices. It is available at the Itunes App Store (Search Peel Scrap Metal Recycling) or you can snap a picture of the QR Code below and link directly. You will find our new App logo starting to appear shortly in some of our advertising.