The Metals Pricing Cycle Is All About Peaks & Troughs
Over the last two weeks, we have had our customer appreciation days at both our Oakville and Mississauga locations. We do this every year. It is always a fun time for us as well as our customers.
This year, prices were on the minds of many of our customers as we had a chance to chat with them over food served up fresh from the grill.
Unfortunately, the last few months have seen continued instability in scrap metal prices, including further downward shifts in steel pricing. Copper has remained more or less at a six year low and the price of other metals as well as commodities like oil all seem to be looking at the water level rising in the same sinking boat.
World Wide Economic Conditions Are Always Dictated By The Big Boys
It hasn't helped that Chinese demand has slowed and so has the growth of its economy. In fact, China has devalued its currency to make its goods more attractive, and this amidst a significant drop in Chinese industrial share prices and other related issues. China, by the way, is the second biggest economy on the planet.
Moreover, while the American dollar has been rising, the underlying fundamentals in the U.S. economy, the biggest economy on the planet, are weak.
Scrap Metals Pricing Cycle
Add to this high inventories and a range of other issues that industries and regions are facing today and we simply have no recipe for much, if any, improvement in prices in the near term. We see equipment and machinery idled and a great many industrial properties for sale or lease on the real estate market.
No Downturn Lasts Forever.
Because these downturns are all quite cyclical in nature, it is expected that the world's economies will adjust to changing circumstances over time. These structural adjustments are very much a part of a natural ordering in the absence of any large and unexpected external shocks.
For those of us on the playing field, however, it is all about managing the outcomes and being first past the post as things begin to improve.
At Peel Scrap Metal, we have seen a number of these cycles in our 25 years in business. And what we have learned is that we should, and do, always focus on our core values and customer services regardless of which part of the cycle we are in.
Adjustment cycles come and go. The economies of the world may change their focus, but the reality is that they never stop growing.
We hope you are enjoying the remaining weeks of summer.
Download Our Mobile App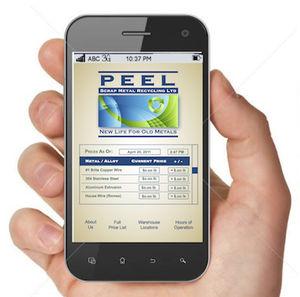 If you haven't done so already, our Peel Scrap App is free to download and available at both the I-Tunes and Google Play stores. It will keep you current on prices in addition to providing other useful links and information. (Search Peel Scrap Metal Recycling)