The Future Of Scrap Metal Recycling – A Global Perspective
All of us at Peel Scrap Metal like to take the time to talk with our customers. Some of us, because of the nature of our work, are less able to do this but our buyers and managers certainly always try to make a point of it.
Not only do we enjoy it, but these conversations help us to get a handle on what our customers think about our service, which helps us do a better job. We also enjoy it because it helps us get to get to know our customers, and this is the key to helping provide them with useful information and sometimes to put them in touch with others.
Metal Prices – Where Are They? Where Are They Going?
Metal prices are often a part of these conversations as customers want to understand the rationale for swings in prices. They wonder if they are doing the right thing by selling their scrap metal now as opposed to holding onto it for a while in case prices rise. Of course, the chatter always gets louder as fluctuations in scrap metal prices become more intense.
The Chinese Connection  – The Demand Side
China is often cited as a root cause of instability in commodity pricing. In fact, the reasons for this are tough ones to tackle. We certainly are not experts in world economics but in the interests of those asking we thought we might provide some context in regard to the Chinese influence on commodity prices, albeit on the lite side of a very complex set of considerations.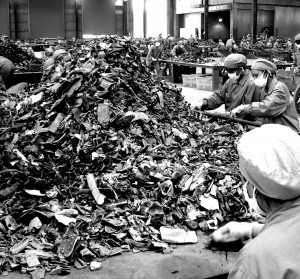 In general, the global demand for scrap metal is driven by China, India, Turkey and South Korea. Global supply is driven by the United States, Japan and the European Union. China, with a population of 1.3 billion people and economic growth in the range of 8% to 10% year over year, does indeed have a massive impact on the size of the world's demand for scrap metal and other commodities and therefore their prices. Historically, the boom in China was powered by economic reforms which began in 1978. The scrap metal industry was a beneficiary of these reforms as the appetite for copper, steel, and other commodities essential to the building of infrastructure, industry, and housing was enormous. This demand was so strong that it pushed on even through times when construction and manufacturing in the U.S. and other countries were slowed by recession and financial crises. Overall, we think most economists would agree that China's economic development over the past ten to twelve years has indeed been the greatest contributor to at least the surge in commodity prices. So our customers are right to be concerned when China sneezes.
The Supply Side
One of the more interesting aspects of these developments in China, however, is actually on the supply side. China has been unable to generate sufficient quantities of scrap metal within its own borders. But as incomes have risen in China, a middle class of consumers is developing and people have begun to buy and replace cars, appliances and other manufactured goods. There are now predictions that by 2024, when GDP per capita is expected to reach $15,000.00,  China's metal consumption activity will peak as growth slows and they are able to source material at home. We don't think anyone really knows exactly what will happen as Chinese buyers of scrap metal and other commodities become increasingly able to source their supply domestically. Ask two economists and you will likely have to ask a third. However, growth is slowing in China as evidenced by the cut in their lending rate last week for the first time in four years. This will refocus attention on consumers and certainly keep the supply side interesting.
Other Influences
As a footnote, although China has been the largest driver, other emerging economies have been influential as well. Notably, the so-called BRIC countries including Brazil, Russia and India. All of these countries are currently experiencing some form of economic turmoil or backdraft as well so the problem is complicated enough. Add to this the effect of commodity-based investment trading and the woes in Europe and you have a recipe for uncertainty for some time to come.
Some additional reading: http://www.recyclingtoday.com/nonferrous-value-slump-china-imports-exports.aspx?List_id=19
Customer Appreciation Days Are Just Around The Corner
We invite you to continue this conversation and others during our Customer Appreciation Days at Peel Scrap Metal Recycling. We are all looking forward to our annual customer appreciation days. This year, our barbecues will be held On July 11th and 12th at our Mississauga location and on July 18th at our Oakville location. So come on down, join us for lunch and we can continue these conversations. We look forward to seeing you there. Peel Mississauga   2301 Anson Drive, Mississauga   (905) 612-1288 Peel Oakville   1150 South Service Rd W., Oakville (905) 825-1288