What is it about October that seems to bring out the worst in the financial landscape?
The volatility in the markets has continued in force this week. At the time we are writing this blog, the price of metals has taken a significant beating, including copper which has fallen about 25% over the last three weeks alone. Additionally, the Canadian dollar has been driven down about 10% against the U.S. currency since its peak in July, and the Toronto Stock Exchange, with its heavy exposure to commodities, has dropped about 20% as the "bears" have come roaring back. Forecasters around the globe are busy re-forecasting economic growth and other important indicators.
Making Your Own Way In A Volatile Economy.
Invariably when these market conditions unfold, there is a noticeable uptick in inquiries from our customers wondering what is going on and whether they would be better off holding on to their material and waiting until prices improve.
This time these questions are really difficult to answer since the volatility is largely due to investor nervousness or lack of investor confidence. That nervousness is based on the enormous uncertainties around the world involving the extent of government debt in Europe and the U.S., the exposure to it by financial institutions, slowing growth in China, and the perceived lack of commitment among stakeholders to make the hard decisions necessary to re-stabilize economies around the world.
Unfortunately, Rolling Over And Playing Dead Is Not A Good Option.
This is exactly the pattern of behavior that many companies exhibit at the beginning of a new cycle. If we don't move things along by consuming and trading then the voices of doom and gloom become a self-fulfilling prophecy. This can cause prices to weaken further. It can also cause unemployment to continue rising. And because production must precede consumption (and there will be less production as companies hold off on investment in plants, people, and equipment), there will ultimately be fewer goods and services available for everyone.
Life And Business Are Always Going To Come With Risk.
We started Peel Scrap Metal during the recession of the early 1990s believing that there are always opportunities and if we could build the kind of business that could work in tough times, we would learn some important lessons. And we did. During the last downturn in 2008/2009, we were busy installing and building our wire processing chopping line so that we could hit the ground running when things turned around. Now we have opened our new location in Oakville at the beginning of this new cycle.
Yes, it's a calculated risk. But it's one that's based on the cyclical nature of economic trends.
It's True That There Are No Guarantees In Life.
For those who are asking, we believe that you have to work hard to keep your feet on the ground and the ball moving forward. And you have to listen to your gut. Our gut tells us that there is a bit of chaos in the market, but historically these periods do not last. At the same time, our gut tells us that it's the resilience and collective spirit of people, both business owners and individual consumers who want to effect change, that invariably brings change about.
Solar Roadways News.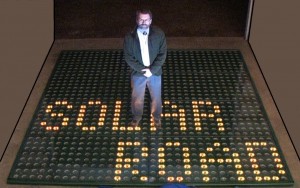 On a positive note, we were delighted to learn that Solar Roadways Incorporated, a company we told you about in a previous post, has successfully completed Phase I of their Small Business Innovative Research Contract and have been awarded a follow-up Phase II contract by the Federal Highway Administration. We are looking forward to seeing where this takes them. scrap yard in Mississauga
To find out more about Solar Roadways, visit. http://solarroadways.com/main.html