The Dvorkin Family –– A Century In Scrap Metal
The history of our family in the Scrap Metal Industry begins with my Grandfather, David Dvorkin, who arrived in Calgary from Russia in 1912. In 1918 he started Western Hide & Fur and his children arrived in Calgary in 1922.
Ted Dvorkin, who was David's oldest son started working for his father at the age of thirteen in the mid-1920s. He was taught to sort such things as furs, rags, bottles, animal bones, scrap steel, cast iron, copper, brass, and a number of other items so that they could be sold to businesses that would either re-use them as they were or convert them into new products. This was the beginning of what came to be called "The Recycling Industry" in the 1970s.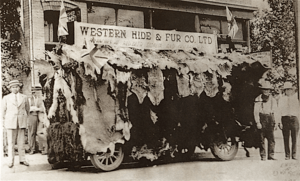 Many Decades Many Different Names
The company began with the name Western Hide & Fur, was changed to Western Hide & Junk, and changed again to Canadian Junk Company.
This name was used until 1957 when it was changed to Calgary Metal Ltd. In its beginnings, metal was only a small part of the various products bought and sold by the company. But as the name changes indicate, scrap metal took on an increasingly important role. Besides scrap metal, the business also sold such products as used steel pipe, pipe fittings, used structural steel, and various types of used machinery. New material was often purchased for resale if used material was not available.
A Family Business For Better Or Worse
In the 1930s, Ted's stepbrother, Sam Sanford, started to work in the family business and became a partner with Ted until he retired in the late 1960s.
During their time in the business, Ted Dvorkin saw his role change from being essentially a collector of goods to being an important part of the "Metal Recycling Industry" in Canada. The company collected, identified, sorted, processed, and packaged various types of scrap metals so that they be sold to could businesses that would convert them back into new products.
In 1965 Ted's oldest son, Rick, came to work for him in the business and in 1969 became a shareholder. In 1974 Gary, (me), Ted's youngest son, came to work in the business and became a shareholder shortly afterward.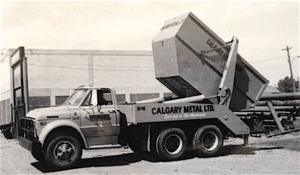 A Calgary Business With All The Requisite Ups & Downs
For a considerable length of time, Calgary Metal operated at two locations. One owned and one leased. The property, which was owned was located at the corner of Sixth Avenue and Second Street South East in downtown Calgary, It was expropriated by the City of Calgary so the whole operation was moved to the leased property, owned by CNR at the corner of Seventh Avenue and Sixth Street South East.
The company operated at the location until 1973 when CNR made a decision to sell the property to the City of Calgary for the reconstruction of Fort Calgary. In 1973 Calgary Metal purchased new property 3415 Ogden Rd S.E. and continues to occupy that space today.
In September of 1976, Calgary Metal merged with a competitor and took on the new name of Scrap City Scrap Metal Industries Ltd. The reasons for the merger were A) that greater volumes justified purchasing more efficient equipment for processing and B) with larger volumes, better homes could be found to sell the material.
Sales grew rapidly for four years but the partner's management styles were very different and they decided to separate and return to their original companies. In 1983 Ted, Rick, and Gary went back to Calgary Metal (1983) Ltd. In the summer of 1985, Ted had been developing the early stages of Alzheimer's disease and was starting to slow down at work. At this time, Rick and Gary decided that they would no longer be partners at Calgary Metal. Rick stayed at Calgary Metal with a silent partner and Gary and his family moved to Mississauga, Ontario. Ted's Alzheimer's disease got progressively worse until he passed away in 1997 at the age of 86.
Calgary Metal purchased more land from their neighbor increasing their property size to 8 acres. The new land was used to inventory new and used pipe which was sold to the oilfield industry. Calgary Metal also purchased a shredder for processing ferrous scrap which allowed them to process more material and sell to new markets.
Calgary Metal had years of ups and downs following the general economy and the oil patch in Alberta. In 2003. Rick became ill and passed away in March 2004 at the age of 60.
New Life For Old Scrap Metal In Mississauga & Oakville
The silent partners tried to run Calgary Metal but the scrap metal industry is very unique and complex and it proved very difficult for them. They decided to sell the business in 2006, to people who were already in the same industry, which made for an easier transition. Calgary Metal is still operating today at the same location on Ogden Road in Calgary.
When Gary moved to Mississauga he got a job with a local Scrap Metal company as general manager. In 1990 Gary and his brother-in-law Jeff Shaffer opened Peel Scrap Metal Recycling Ltd in Mississauga just north of the Toronto airport.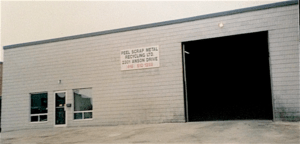 Peel Scrap Metal Recycling or Peel Scrap, as it became known by many, started as a small company with strong values which Gary and Jeff learned from their parents. The company started in the non-ferrous business and as it grew and acquired more equipment, it expanded into the ferrous metal side of the business.
Gary and Jeff had set out plans for the growth of Peel Scrap Metal and have stayed on course over their years in the business. Each year the business grew and more new customers were acquired. All employees were taught the importance of good customer relationships, which is one of the main reasons for the success of Peel Scrap Metal. Gary's sons Jeremy and Joshua had both worked at Peel Scrap Metal as students just as Gary did at his father's business, Calgary Metal.
Joshua decided to pursue another career, but Jeremy has continued on in the scrap metal industry and is now a partner at Peel Scrap. Jeremy came into the business full-time after graduating from Humber College with a diploma in Business Administration. Soon after Jeremy came into the business Peel Scrap Metal expanded its facility with more warehouse space and land for outside storage.
Jeremy has brought many new ideas to Peel Scrap Metal which he has helped put into action. He put into place a software system designed specifically for the scrap metal industry which simplified our paper flow and allowed us to have quick access to information. He worked side by side with the employees to gain their respect and trust. In 2009 he installed a wire chopping line for insulated copper wire. This separated the insulation on the wire from the metal and also separated the copper, aluminum, and steel. This gave Peel Scrap a better product to sell to our customers.
In 2011, Jeremy thought that it was time to open a second location for Peel Scrap Metal which we did in Oakville, Ontario. Since that time the Oakville warehouse has grown to almost the same volume as our Mississauga location. In 2014 Peel Scrap Metal purchased more equipment at the Oakville location to improve the processing of ferrous scrap metal.
For many years before the green revolution, the Scrap Metal Industry was at the forefront of industries that took their environmental responsibilities very seriously. In today's world, part of the basic cost of doing business in the recycling industry is investing in the equipment, machinery, and training to manage a wide range of client needs and to do so with the least amount of environmental impact.
Most people recognize that recycling helps to minimize waste in our communities and maintain a healthy balance in the ecology of our planet. What is not so well known or appreciated is the fact that recycling makes it possible to significantly reduce the cost of producing products because the recycling process not only preserves limited resources but also lowers the amount of energy required to produce many of the products we currently enjoy.
We can't be a completely green business, but our contribution to the green solution is a substantial one, with new technologies coming online regularly. With the tools we have at our disposal today, we are that much more adept at playing our part in maximizing the amount of non-renewable ferrous and non-ferrous metals that have a new life thanks to the efforts of our industry.
One hundred years in the same industry and the future looks bright to continue on. The Dvorkins have always been progressive and looked ahead for better ways to process scrap metal. Our only roadblock is that we all have a finite time on this planet…but the fourth generation carries on for now.
Happy Scrapping…A Parting Thought from Gary
I remember when my father passed away and we were at the Erlton Cemetery in Calgary and his casket was being lowered into the grave. I could see downtown Calgary from the cemetery and realized that most of the buildings in downtown Calgary were not there when my father came to Calgary in 1922. With Calgary Metal being located in downtown Calgary the thought came to my mind that my father most likely purchased scrap metal from most, if not all, of the buildings in downtown Calgary. A nice thought for a sad day.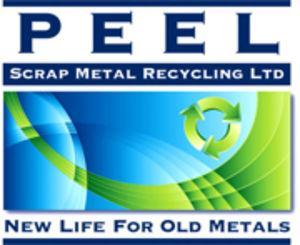 Just a reminder that our mobile app is available in both mobile operating systems. The app is free to download and available at both the iTunes and Google Play stores. It will keep you current on prices in addition to providing other useful links and information. (Search: Peel Scrap Metal Recycling).
Download for Apple mobile devices
Download for Android mobile devices