Sustainability – The New Mother of Innovation
Writers commonly suffer from a condition that is often referred to as "writer's block". According to Wikipedia, this is a condition in which the author loses the ability to produce new work.
We find the same type of thing is often in play in business. A great number of companies can tend to get 'blocked' by continuing to employ many of the same formulas which have allowed them to prosper in the past. At their peril, they often fail to take into account that conditions around them are always in a constant state of change.
About Innovation
The most important force which drives successful businesses forward is innovation. This innovation may occur as a series of small or substantial steps designed to improve efficiency and productivity. Or, it may be about creating something new by applying existing models to new markets. The constant objective, however, is always to produce a better result.
Innovation with Sustainability
And most recently, a new wrinkle has been added to the quest for better results, and that is the notion of sustainability.
What this means to a lot of businesses is that any measures put into place to create a more productive state, need to also take into account the number of resources being used to achieve these results. In other words, to produce the best result possible in the most efficient and beneficial way possible.
So how do we kickstart innovation in today's world?
We would argue that given the focus on sustainable solutions, many companies have already or will soon fundamentally redesign and repurpose their businesses around models that take into account these new realities, including those of their consumer base and the level of scrutiny made possible by the Internet.
Nike Did It.
One of the best examples of this is Nike. It grew into a very successful company, with very little in the way of sustainable innovation powering its growth.
As a result, it virtually became a pariah at one point and was roundly criticized in the media for many of its business practices.
But being a smart company, Nike realized that it would have to rethink itself and rebuild itself around more sustainable practices.
Today, 25 years later. Nike is again on top of its game but in a totally different and much more sustainable and responsible way. A few years ago, the Canadian Broadcasting Corporation interviewed Nike's Vice President of Sustainable Business and Innovation, Hannah Jones, about this turnaround.
Interestingly, Ms. Jones explained that the key to their success was that Nike was able to discover the linkage between sustainability and innovation.
Far from impeding growth or simply being considered as a necessary cost to mitigate risk, Nike's focus on innovation actually triggered a different way of thinking, which, in turn, created a business re-design that added a new dimension to all aspects of their company.
By focusing on sustainability, they went from being on the defensive, because of the image problems they created, to be a powerful, sustainable, transparent, environmentally and socially responsible operation. in the way, their stakeholders were demanding.
And because they did, their prospects responded positively and supported them.
Nike should serve as an example to all businesses that sustainable practices are not just a cultural imperative that helps to preserve valuable resources, it can also be a shining example of good corporate citizenship, which has benefits far beyond mere profitability.
Download Our Updated Mobile App.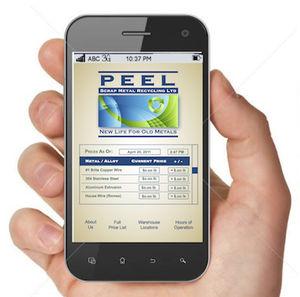 Just a reminder that our mobile app has been updated in both mobile operating systems.
If you haven't done so already, this is free to download and available at both the iTunes and Google Play stores. It will keep you current on prices in addition to providing other useful links and information. (Search: Peel Scrap Metal Recycling)
Download for Apple mobile devices
Download for Android mobile devices