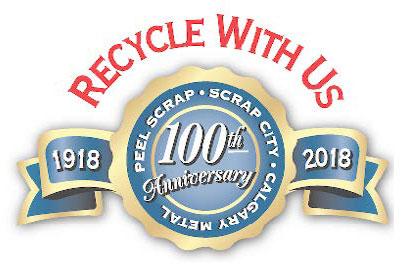 Peel Scrap Metal Recycling Ltd. is a century old family owned and operated dealer & processor of a wide ranged of ferrous & non-ferrous metals. The industrial recycling we do is one of the most important ways to ensure that valuable non-renewable resources are given new life. It's a key environmental responsibility which we take seriously.
Commonly Purchased Metals & Alloys
Tell Us About
Your Next
Fundraiser
Scrap metal and scrap
electronics drives are a great
way to combine environmental
responsibility with fund raising.
We participate in a number
of charitable and community
fundraising events in the GTA
and would be happy to talk
with you about yours.
You can reach us by phone
during normal business hours
at 905 612-1288,
or by email anytime
Click Here To Email Us
How Our Customers Feel About Us.
Before our customers leave, we always try and have them fill out our customer evaluation form. This is a great way for us to make sure that we're providing all our metal recycling customers with the best service possible. A number of our customers have kindly consented to write a testimonial for us. Here is a sampling:
"Peel is the only place I bring my scrap."
Kevin Fujioka
Trigon Construction
"The guys here are friendly and courteous
and always give service with a smile."
John Prioste
Quadcon Group Contractors
"The workers at Peel Scrap are the best feature.
They all have a sense of humour."
Dennis Comeau
"Good job, guys."
Gleb Doynirov
Electrical Cointractor
"I would never consider going anywhere else!"
Serge
(Regular Customer)
"The guys here are all great to deal with."
Ryan Jeffery
"Quick helping hands…just what a customer wants.
Everyone is nice…keep it up.
P.S. A satisfied customer always comes back.!
Yolande
(Satisfied Customer)
"Keep up the good work."
Daniel Mera
DanMar Electrical
"I think everybody who works here are great people
to get along with. Prices are good for me too."
Burton Croft
"I have already referred a few co-workers
to Peel Scrap Metal Recycling for their personal/home use.
Peel is a good practical alternative to using Region of Peel
or other private services and also provides good remuneration."
John Seabourne
Hobby Recycler
"I always enjoy coming here.
Your guys are all very easy to work with."
Steven Pahl
"Always fair and you can't get better than that."
Doug Scott