Looking At Copper In A Whole New Light
#1 Copper. A hot commodity in the worlds of both recycling and finance.
Copper is certainly one of the most favored commodities that our customers like to trade with us. At current prices of around $3.25/lb for mulberry (brite, copper wire) and $3.10/lb for no 1 copper even a small amount of weight adds up very quickly.
This is particularly handy at this time of year and in fact, many people will accumulate copper material and sell it to us in time to coincide with the gift-giving season that is now upon us. It's kind of like keeping money in the bank and if you have been saving your copper this year, you are fortunate, because a reasonably strong market has kept its value at favorable rates.
Copper As A Traded Commodity?
This week, however, there has been a significant stirring of the pot. For at least two years now, JP Morgan and Blackrock's iShares have been battling with the Securities and Exchange Commission (SEC) in the U.S. to allow them to offer copper-based exchange-traded funds (ETFs). This would allow investors to actually trade copper like stock but with physical exposure to copper with each unit bought and sold i.e. backed by a real amount of the metal. scrap metal prices
Expected to reach a decision in October, the SEC delayed their decision until just this week when approval was granted to JP
Morgan Chase & Co. to allow trading in physical copper ETFs. Essentially, the reason for the delay was a letter filed with the regulators by a New York-based law firm that was representing several large firms including fabricators. The reasoning was that if these funds were backed up by physical amounts of copper, there would be less copper available for manufacturing creating a shortage of supply and driving up demand and correspondingly, the price of copper and the price of goods with copper content.
The offering by JP Morgan could remove as much as 61,800 tonnes of copper from the market. The offering by Blackrock anticipated the removal of about 120,000 tonnes. While, together, this is only a fraction of the global market for copper on an annual basis, it represents a significant portion of the London Metal Exchange's stock of copper in its bonded warehouses.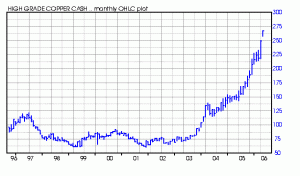 In its ruling, the SEC said that it, "does not believe that the listing and trading of the shares is likely to disrupt the supply of copper available for immediate delivery, which is what the copper fabricators predict would increase the price of copper." We are certainly not experts in this complex area but we are inclined to believe that the jury is still out. Although the U.S. is a different "kettle of fish," similar funds launched in Europe over the past eighteen months have not been that successful. There is also the issue of costs associated with storing that amount of copper (it takes about 500 times the amount of space to store copper versus the same value in gold. Customers for Copper Funds
Finally, it will be interesting to see who actually buys the funds. There are few investors large enough to take on this quantity of copper and would those that might buy in take a long-term strategic view – i.e. "buy and hold." What has been created by this exchange-traded fund is another form of demand for copper and in the process, it has divided industries that use copper in their manufacturing from those that want to attract investors in the physical copper market. At the very least, this is a recipe for volatility. And now for the disclaimer.
Our aim here is to inform and to encourage discussion. It is not to provide investment advice. The commodities market is a very complex business and we would certainly not claim to be experts in that area. We are merely interested in metals such as copper and those factors which affect their price as a commodity in the recycling industry.
Happy Holidays To You We want to take this opportunity to sincerely thank all of our customers and consumers for their support in 2012. It is hard to believe that another year has already gone by. Please accept our very best wishes for good health and much happiness over this Holiday Season and throughout the New Year.
Our Holiday Hours
Saturday       December 22nd  Open 7:30 A/M to 12:00 Noon
Monday         December 24th  Closed
Tuesday        December 25th  Closed
Wednesday  December 26th   Closed
Saturday      December 29th  Open 7:30 A/M to 12:00 Noon
Monday        December 31st  Closed
Tuesday      January  1st      Closed