While there have been many new technologies introduced into the recycling industry over the past few decades, in this blog we want to highlight two recent exciting developments. One is in Canada and the other is in the U.S.
You can be forgiven if the patented process called reverse polymerization does not happen to be in your lexicon . We hadn't heard of it either until someone brought it to our attention in connection with the various technologies being applied to the problem of recycling the 12 million plus end of life vehicle tires that are generated in Ontario each year.
Innovative Solutions Right in Our Own Back Yard
It turns out that an Ontario Company, Environmental Waste International (EWS), based in Ajax, took over the development of the reverse polymerization process in 1992. The original work had actually begun about 12 years earlier and the knowledge acquired allowed EWS to commercialize the process for a number of different applications including used vehicle tires but also medical waste, food waste and biological wastewater sterilization.
Microwave Technology—Not Just For Cooking
The process uses microwave energy to break apart a tire's molecular bonds. This  process reclaims pretty much one hundred per cent of the tire's by-products. These include steel, oil, hydrocarbon gas and carbon black (used primarily as a pigment and reinforcement in rubber and plastic products). In contrast to traditional methods of tire recycling, this process is environmentally friendly with no stack emissions or landfill waste and is also designed to use the gases collected as fuel to power the operation and make it energy self-sufficient.
EWS actually bought the company (Ellsin Environmental Ltd.) that had contracted it to build a pilot plant. That pilot plant is located in Sault Ste Marie, Ontario and has begun using the technology. At 300,000 tires per year, it will produce 240,000 U.S. gallons of oil, 600,000 lbs of steel and 2 million pounds of carbon black. It is estimated that the larger commercial versions will process two million tires a year.
There is a great video on the Ellsin Environmental web site explaining the process (www.ellsin.com) To learn more about Environmental Waste International and to have a video tour of their Sault Ste. Marie facility, check out their website at www.ewmc.com.
Recycling Industry News

The Can Manufacturers Institute, among others, publishes a number of fun recycling facts in regard to aluminum cans. The aluminum can is  the most recycled and recyclable beverage container in the world. It is estimated that the U.S. alone recycles enough aluminum cans in a year to stretch to the moon and back at least eight times.
Last month, a well known company in the U.S., Wise Metals, opened the largest used beverage can melting facility in the world. Sitting on a 74 acre site in Alabama, the complex is named Element 13. Aluminum is the thirteenth element in the periodic table.
The facility is large enough to process 14.6 billion aluminum cans every year. Its products are used in the production of new aluminum sheet stock for use in the food and beverage industries in making new aluminum cans and containers.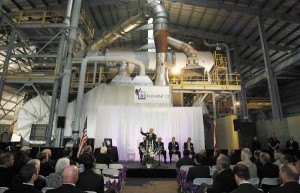 End of Life Electronics Recycling At Peel
We have recently added more end- of- life electronics to the already substantial list of items we recycle. This includes: computers, printers, faxes, stereos, mobile devices & TVs too. Next time you buy a television set or other type of appliance or gear that triggers an 'eco fee' with the new product and a 'disposal fee for your old product, you can now recoup some of those costs by recycling those end-of-life electronics and appliances with us. This means your electronic scrap will not go to waste and you can be sure that it will be handled in a responsible and sustainable way.