In today's world, we are losing the ability to communicate face-to-face to solve our problems. People text, tweet, twitter etc. and as a result, there is seldom, if ever, anyone to tell you to your face that you might be wrong about something.
But lets face it, we are all wrong some of the time, and I know that when I am wrong I would really want somebody to be honest and correct me so that the next time I will get it right.
This is a big part of how we learn. And because being honest with our customers is a key character trait of our business, they invariably appreciate it. And because they do, it's that much easier for them to commit to being regular customers.
The result for us is that we have tens of thousands of customers each year and many of our customers have been coming to us for over twenty years. So you could honestly conclude that that are doing things right most of the time.
I know that sometimes we make mistakes or have a misunderstanding with our customers. But we're only human after all. And we encourage all our customers to bring any issues they may have to our attention so that they can always leave the transaction feeling that have been treated fairly.
This works both ways, because we have had situations where we made a mistake and paid our customer too much money and they have alerted us to this mistake. On the other side of the coin, if we find an error we always do our best to correct it.
But on both sides of the relationship, communication is the key to solving differences and being successful whether it is with your spouse, child, friend, employee or customer.
Some people are not good communicators.
This leads me to Goggle reviews.
We get a great many Google reviews a year where about 80% are good ones which we appreciate and are thankful for, and 20% that are not so good which we also appreciate, especially so if they are constructive criticism. But if they are just ranting and raving angrily, and those are very easy to spot, it does not make anyone look good even the reviewer.
The best solution when you find yourself in a problem situation is to talk to someone who can make decisions that can improve the situation at the time of the problem, or to let you know that your perception of the problem is not as bad as it seems and that there may be a simple solution.
All it takes is a little honest communication.
Those who just rant, rave and complain on Goggle reviews really don't accomplish much at all, other than making themselves look like angry people.
Leaving constructive criticism will help us understand the issue and greatly improve our ability to make things right.
My father taught all the children in our family to understand that the most important thing for us to accomplish in our lives is to leave a good family name.
At Peel Scrap Metal we constantly strive to achieve this goal.
Download Our Updated Mobile App.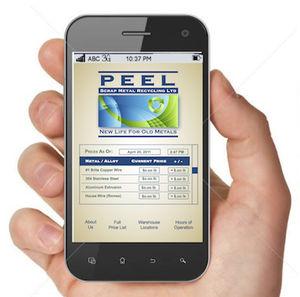 Just a reminder that our mobile app has been updated in both mobile operating systems.
If you haven't done so already, this is free to download and available at both the I-Tunes and Google Play stores. It will keep you current on prices in addition to providing other useful links and information. (Search: Peel Scrap Metal Recycling)